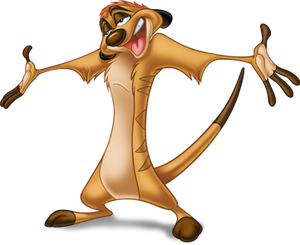 Timon is a protagonist in Disney's "The Lion King". You can play with him only in the toy box mode. He comes in The Lion King pack along with Pumba and Simba. He and Pumba are a double character. He rides Pumba's back, but you can tell him to jump off.
Quotes
- Hello there! Timon is ready for adventures!
- Oh, Pumba! You made a mess! AGAIN!
Chests
He unlocks his unknown like costume
He unlocks the jungle trees pack
Abillity
When he rides Pumba he attacks, but when he is alone he can't attack. He is the only character with a triple jump. He can ride anything exept all the cars from Cars".                                                                                                      
Pictures