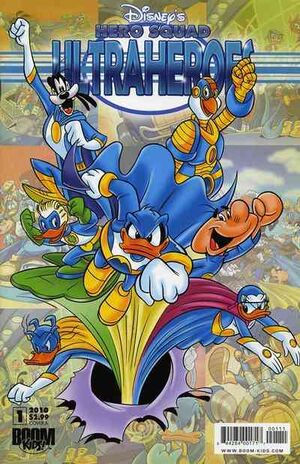 The Ultraheroes Playset is a playset that takes you to the Ultraheroes comic books. The playset token is shaped like the Ultramachine, and the pack comes with Super Duck and Super Daisy.
Missions
Welcome
Vile Rose
Helping Iga Biva
Jail
The First Ultrapode
Ultra Climb
We Need Customization
The Great Men
The Second Ultrapode
What About The Training Hall
Need A Blaster
Portal To Portal
The Third Ultrapode
Guard The Van
Bad - 7 truck
Plants
The Fifth Ultrapode
The Sixth Ultrapode
Save Mickey
Iga Giant
Piece Again
Story
One day Iga Biva called the Ultraheroes. There was a mision for them - Bad - 7 had stolen all the Ultrapodes and the Ultraheroes have to return them to save the peace and everything that they love. But then they will have to defeat the Iga Giant. Come along and have fun! And save the universe!
Playable Characters
Super Duck
Super Daisy
Super Goofy
Black Pete
Roller Dollar
NPCs
Iga Biva
Lith
Detelin
Zafira
Spectrus
Super Fethry
Blot
Iron Goose
Pictures