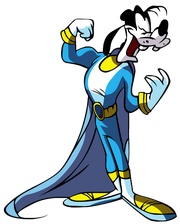 Super Goofy is a protagonist in Disney's comic books "Ultraheroes". He is also a playable character in DISNEY INFINITY. You can play with him in the Ultraheroes Playset and in the toy box mode.
Quotes
- Super Goofy is here, mates!
- Hello! Uh, do you know where are my peanuts?
- Do you know that i can hit you, Dollar?
- The brain is more super then the jaws, Pete!
Abillity
He can hit and kick, fly for a little bit and create sound waves. Has a double jump.
Pictures