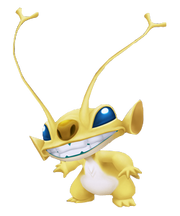 Sparky is a character in Disney's "Lilo and Stitch 3", "Lilo and Stitch, the series" and "STITCH!" He also appears as a playable character in DISNEY INFINITY. You can play with him in the Lilo and Stitch Playset and in the toy box mode. He is also playable in the toy box in Disney Infinity 3.0.
Quotes
- Zzzzzzzzzzzzzzzzzzzzz!
Trivia
He is Yang, Perry and Tarzan can't speak.
Chests
He unlocks his costume
He unlocks the Lighthouse
He unlocks the electricity amulet
Abillities
He can freeze his opponent with electricity. He also can hit and kick. Has a jump.
Pictures