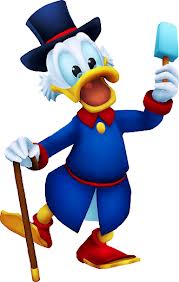 Scrooge is the main protagonist in Disney's "Duck Tales". He also appears as a playable character in DISNEY INFINITY. You can play with him in the Duckburg Playset and in the toy box mode.
Quotes
- Time is money and I don't have time for spending!
- See ya Super Duck!
Chests
He unlocks his costume.
He unlocks his cane.
Abillity
He kicks and fights with his cane. Has a jump.
Pictures