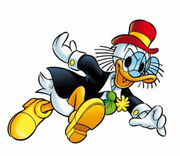 Rockerduck is a character in Disney's comic books "Macrocomics". He also appears as a playable character in DISNEY INFINITY. You surely can play with him in the toy box mode, but officialy you can't play with him in the Duckburg Playset, but some people - mostly hackers play with him in it.
Quotes
- If I loose I'll eat my hat.
- Uh, oh!(When suffering damage)
- Did you hear what Scrooge made... He is a scrunge anyway!
Chests
He unlocks his costume
He unlocks his Buisiness Building
Abillity
He hits, kicks and bites. He uses his hat as a boomerang.
Pictures