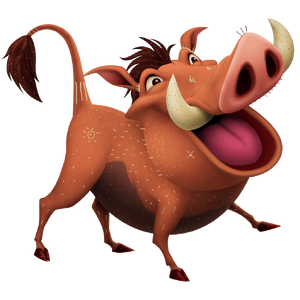 He is a playable character in Disney Infinity. He comes in The Lion King Pack along with Simba and Timon. He is a protagonist in Disney's "The lion king". Timon rides him so they are a double character.
Quotes
- Hakuna Matata!
- Why, hello Simba!
- Way to go Timon!
Chests
He unlocks the hyenas
He unlocks the elephant graveyard
Abillity
He can attack with his tusk and can't be picked up, but you can ride him. You can't go to a race. He also can throw giant worms to his enemies. He hasn't got a double jump.
Pictures