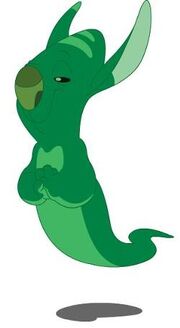 Phantasmo is a ghost experiment in "Lilo and Stitch: the series". He also appears as a downloadable playable character in Disney Infinity. You can play with him in the Lilo and Stitch Playset and in the toy box mode. 
Quotes
(When spawned) - Boo! Just joking!
(When taking damage) - Oooooaaaaaaaah! That hurt!
(When meeting Lilo) - Ah, I love little girls for dinner!
(When spawned again) - Hello, again! I was so bored in that Coco!
Abillities
He can turn into a tiki statue and hits and kicks. He also has a double jump in his regular form. He can also turn in Coco the parrot and becomes faster. He can turn in a traffic light and throw coconuts. But in his regular form he can't fight!
Chests
| Chest | Prize | Location |
| --- | --- | --- |
| Phantasmo | Cocoshoot | Behind Hula school |
| Phantasmo | Coco's cafe | At Mertle's house |
| Phantasmo | Hapoleon hat | In coco's cafe |
Gallery
Don't edit. This page is in progress.