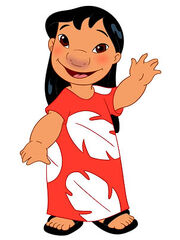 Lilo is a protagonist in Disney's "Lilo and Stitch". She also appears as a playable character in DISNEY INFINITY. You can play with her in the Lilo and Stitch Playset and in the toy box mode.
Quotes
- Aloha! My name is Lilo and am ready to play!
- Hi, Stitch! (When mentioning Stitch)
- Oh, the Meardlows! (When taking damage)
Chests
She unlocks her costume
She unlocks her house
She unlocks Nani's costume
Abillity
She hits, kicks and throws sandwiches.
Pictures