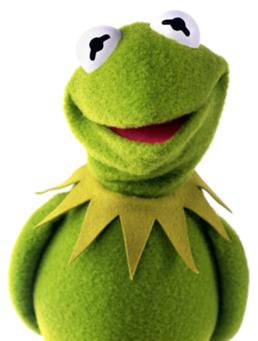 Kermit the Frog
is a character created by Jim Henson, and the leader of the Muppets. He is the main protagonist of the Muppet franchise, and is a playable character in the Muppets Most Wanted playset. He is also playable in
Disney Infinity 3.0 as
a toy box exclusive character..
Attack 1: a hard hit with a banjo
Attack 2: shoulder charge
Quotes In Game
When Spawned
Hi ho, it's great to see ya again!
Hi ho, Kermit the Frog, here! Are you ready to have some fun?
I'd say it's time to get things started with this show!
In Combat
I hope he didn't get too hurt.
Looks like it's not that easy bein' him, right now.
Sorry, couldn't help it!
Ouch!
Sheesh!
You'll pay for that!
Character Interaction
Piggy? You're here too?
Hiya, Fozzie!
Hi ho, Walter!
Gonzo? Shouldn't you be practicing the Indoor Running of the Bulls?
How's that turkey comming along, Chef?
Try not to break anything, Animal!
General
I wonder if there's a swamp, nearby?
I need to get going, soon. Our next show isn't too far away.
I hope Animal doesn't ruin the stage while I'm gone.
Someday, we'll find it. The rainbow connection.
I wonder how Piggy's doing?
This is more fun than scum scraping at my family's swamp!
Boy, what I would give to go for a swim. It's hot, here!
Maybe I should check on Robin after we play.