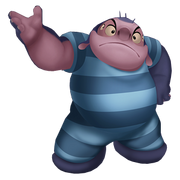 Jumba is a protagonist and an antagonist in Disney's "Lilo and Stitch". He also appears as a playable character in DISNEY INFINITY. You can play with him in the Lilo and Stitch Playset and in the toy box mode.
Quotes
- Ha - ha - ha! The world will be mine!
- Hello, 626! (When mentioning Stitch)
- I have warn you I,m too strong for ya! (When starting a fight)
Chests
He unlocks his costume
He unlocks his lab
Abillities
He can hit and uses a blaster. Has a jump.
Pictures