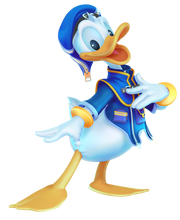 Donald Duck is a protagonist in Disney's episodes, comic books and movies "Mickey Mouse". He also appears as a playable character in DISNEY INFINITY. You can play with him in the Duckburg Playset and in the toy box mode.
Quotes
- Quack - quack! Hello, I'm Donald Duck!
- Oh, my! (When suffering damage)
- Oh, uncle Scrooge do I still owe you the rent? (When meeting Scrooge)
- Lucky Gladstone!(When meeting Gladstone)
Chests
He unlocks his costume
He unlocks his house
He unlocks the Houie, Douie and Louie costumes
Abillity
He hits while quacking. He also kicks and uses his hat like a boomerang.
Pictures